BEST TIME TO VISIT MONGOLIA
BEST TIME TO VISIT MONGOLIA
The best time to visit Mongolia depends on your interests and the activities you plan to engage in. Mongolia experiences a continental climate with distinct seasons, including hot summers and cold winters. Here are the details of each season to help you decide the best time to visit:
It's worth noting that Mongolia is a vast country with diverse landscapes, and the weather can vary significantly between regions. If you plan to explore the Gobi Desert, southern Mongolia, or the Altai Mountains, it's recommended to visit during the shoulder seasons (spring and autumn) when temperatures are more moderate.
Ultimately, the best time to visit Mongolia depends on your personal preferences, the activities you wish to undertake, and your tolerance for different weather conditions. It's advisable to check weather forecasts and plan your itinerary accordingly to make the most of your visit.
---
WEATHER MONGOLIA
---
Mongolia is known to the world as country of Blue Sky of 4 Seasons. In Mongolia there are 257 sunny days a year, often with clear cloudless skies. Along with Southern Siberia this part of Asia has a continental climate, with long, cold, dry winters and brief, mild, and relatively wet summers. The average summer temperature is +21°C, (+65°F) and winter is –20°C, (-13°F). The average rainfall is 200-220 mm. The best time to visit Mongolia  is during the Mongolian summer, from the mid of June till last week of August. This is the safest time of the year to travel to Mongolia in terms of weather, sunny days throughout Mongolia and sufficient rainfall to make the steppes lush and green. June and September are both very pleasant times to visit Mongolia. September, autumn is enjoyable, colorful, not hot, and not cold. Nomads have plenty of dairy products and are busy processing milk and preparing for winter. Beautiful countryside of Mongolia is even more beautiful and picturesque with the autumn colors. 
MONTHS TO BEST:
---
July is the best time to see the Mongolia Naadam Festival. 
The best season for Gobi Desert tour: from June to September and October is shoulder season. 
July to August is the best season to travel to Northern Mongolia and Khuvsgul Lake tour and September is shoulder season. 
First of October is chance to see Golden Eagle Festival in Altai, Western Mongolia. 
February is the best time to experience Mongolia winter season.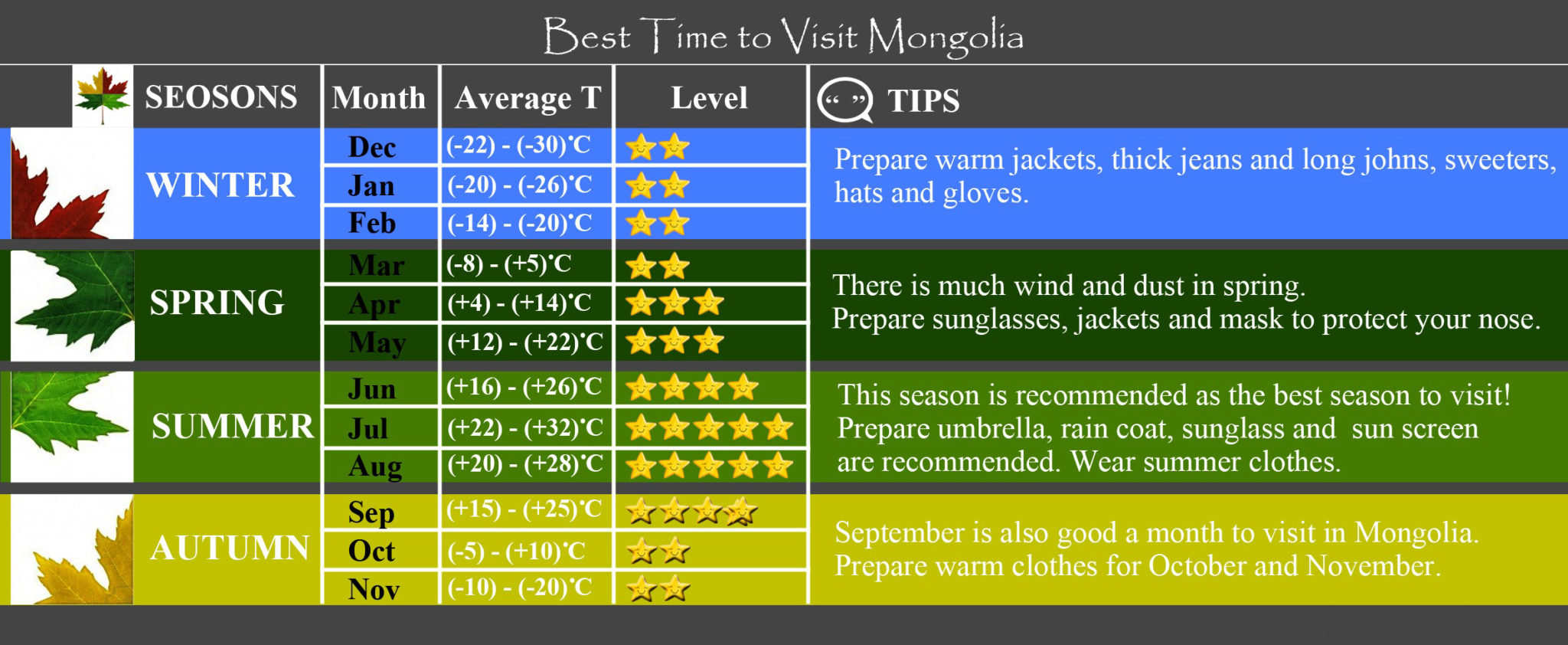 WHAT IS THE AVERAGE MONTHLY TEMPERATURE AND WEATHER IN MONGOLIA?
---
Months

Monthly TEMPERATURE

PRECIPITATION by frequency

Average: day/night

Warmest

Coldest

Rainfall

Snowfall

January

-16°C /-26°C

-11°C

-30°C

0

2-4

February

-11°C / -24°C

-10°C

-26°C

0

1-2

March

-4°C /-14°C

+4°C

-24°C

0

1

April

+8°C /-4°C

+12°C

-9°C

0

0

May

+15°C / +4°C

+18°C

+1°C

1

0

June

+22°C / +6°C

+26°C

+8°C

2-3

0

July

+25°C / +12°C

+32°C

+11°C

4-6

0

August

+21°C / +10°C

+30C

+8°C

4-6

0

September

+16°C / +4°C

+25°C

+1°C

2-3

0

October

+8°C / -6°C

+14°C

-12°C

0

1-2

November

-11°C / -15°C

+4°C

-22°C

0

2-4

December

-13°C / -22°C

-10°C

-26°C

0

3-6
MONGOLIA WEATHER BY THE SEASONS
---
SUMMER

Summer (June to August): This is the peak tourist season in Mongolia. The weather is generally warm with temperatures ranging from 20°C to 30°C (68°F to 86°F). The countryside is lush and green, making it ideal for outdoor activities such as hiking, horseback riding, and camping. The Naadam Festival, held in July, is a major highlight during this time.

WINTER

Winter (November to February): Mongolia experiences extremely cold winters, with temperatures dropping well below freezing. Winter enthusiasts can enjoy activities such as dog sledding, ice fishing, and experiencing the winter landscapes. The Gobi Desert and southern Mongolia have milder winters compared to the northern regions.

SPRING

Spring (March to May): Spring in Mongolia is a transitional season, with temperatures gradually warming up. It is a great time to witness the awakening of nature, blooming wildflowers, and the birth of newborn animals. However, be prepared for some colder days and occasional snowfall in early spring.

AUTUMN

Autumn (September to October): Autumn in Mongolia is characterized by mild temperatures and beautiful landscapes. The colors of the changing foliage create a stunning backdrop for photography and nature enthusiasts. It is a good time for hiking, wildlife watching, and cultural tours.