ALTAI TAVAN BOGD NATIONAL PARK
ABOUT ALTAI TAVAN BOGD NATIONAL PARK
---
Altai Tavan Bogd National Park is located on the Western most point of Mongolia in Bayan-Ulgii Province. This vast mountainous park borders China and Russia with views of Kazakhstan from the highest peak in Mongolia.The people living inside the park are one of the main draws. Kazakhs and Tuvan nomadic herders live inside the park and visiting them is part of most tours. The Kazakhs are the most numerous and the ones that do eagle hunting. They are known for their colorful large ger with rich embroidered wall hangings and their warm hospitality. Tuvans occupy the Tsagaan Gol valley and have different clothes, food, and language than Mongols. Tuvan men sing deep eerie long-songs using throat-singing, though very few Tuvans in this isolated pocket have mastered the art. Kazakhs live around the lake, as well as Tsagaan Salaa and Takhiltyn Havtsal (and most of the rest of the park). Those living inside the park have retained their traditional culture to a greater degree than probably any Kazakh in Central Asia. They have preserved their arts and music, and have practiced the ancient sport of eagle hunting continuously throughout the Soviet era when it was suppressed elsewhere. 

ALTAI TAVAN BOGD MOUNTAIN
The Tavan Bogd /five saints/ is a mountain massif in Mongolia, near the triple border with China and Russia. Its highest peak, the Khüiten Peak (formerly also known as Nairamdal Peak), is the highest point of Mongolia at 4374 meters above sea level. The Tavan Bogd massif is located mostly within the Bayan-Ulgii Province of Mongolia its northern slopes are in Russia's Altai Republic, and western, in China's Burqin County. Besides the Khüiten Peak, the Tavan Bogd massif includes four other peaks: Nairamdal, Malchin, Bürged (eagle) and Ulgii (motherland).
PEAKS
KHUITEN PEAK /4374M/
NAIRAMDAL PEAK /4180M/
BURGED PEAK /4068M/
ULGII PEAK /4050M/
MALCHIN PEAK /4050M/
POTANIN GLACIER
There are many glaciers in Mongolia on Altai range. Biggest glacier in Mongolia is Potanin Glacier on Altai Tavan Bogd national park. It's 20 km long, and it hase huge ice rivers on it. 
Activities with glacier are: You can walk on the glacier with expert tour guide, take photos, experience it, camp just next to glacier! (sunset on Glacier)
WHITE RIVER VALLEY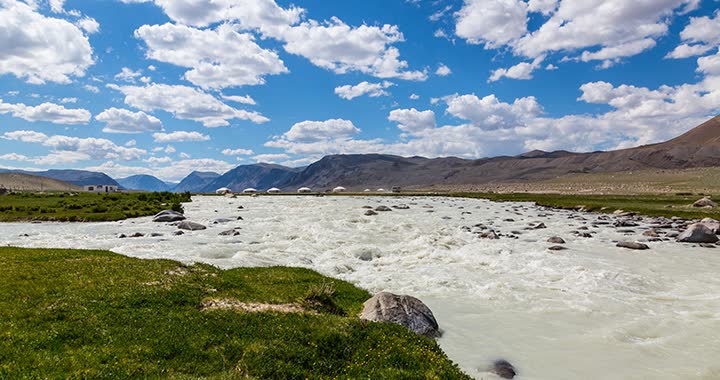 White River Valley (Tsagaan gol) is place where the 4 season of the weather in one hour, where the mountains are meeting the sky and friendly Tuvan nomads showing you unexpected hospitality. This heaven located in very western part of Mongolia where Russian, Chinese and Mongolian Altai mountains are joining and Mongolian side of the mountains lasting with long Potanin glacier. But, the White River coming from that glacier and coming across all way through Western Mongolia and ending at Black lake in Hovd province.
KHOTON AND KHURGAN LAKE
Located in the northern part of the Altai mountain range, near the Chinese border, in Bayan-Ulgii, the westernmost of the provinces of Mongolia, Khurgan and Khoton are 2 lakes situated at an elevation of more than 2.000m. The road to the lakes, located in Altai Tavan Bogd National Park, is gravel. It's narrow, steep, and impassable in winters. Do not travel this pass in severe weather conditions. Avalanches, heavy snowfalls and landslides can occur anytime, being extremely dangerous due to frequent patches of ice.  From October the surface of the lakes starts to freeze, creating then 1.3-1.6 m ice thickness.
Khurgan Lake lies at an elevation of 2,072m above the sea level, and Khoton Lake at 2,084m. It has a well-deserved reputation for being dangerous because of unpredictable snowstorms and blizzards, and driving under these conditions, can be extremely challenging. One of the most challenging parts of the route is a small wooden bridge over the lakes, with a length of 100m. This bridge tests the skill, and courage, of any driver. It's definitely not for anyone suffering from vertigo and there's little room for error on this section.
It lies at the foot of the Altai Mountains near the Chinese border, at an elevation of about 2,000 metres (6,600 ft) above sea level. It is fed by the Khuiten River from the east and other rivers from the north. With an area of 50 square kilometres (19 sq mi), it is the country's twenty-sixth largest lake by surface area. It has a maximum depth of 8.58 metres (28.1 ft). The lake is home to abundant fish life.
BAGA TURGEN WATERFALL ​
In Altai Tavan Bogd National Park located very easy accessible waterfall in Baga Turgen valley around Khoton and Khurgan Nuur area. This waterfall formed from small glaciers up the Altai range mountain and flows through local Kazakh nomads. This is very beautiful spot with gorges mountains and different lifestyles around. As easy to get there it is very good for short hiking through local Kazakh nomads meet their everyday activity, visit the waterfall, enjoy the perfect landscapes and even swim under that waterfall.
BEAR VALLEY
Bear Valley is most amazing and spectacular place with fantastic landscapes, surrounded with green snow caped mountains with several waterfalls and crystal clear lakes that located in southwest of Altai Tavan bogd national park. This place is non accessible by any jeeps or transports as there are no special road to there. But during the early nomadic years people were using this valley as a short cut between their winter place and summer places when they are migrating with packed camels and all livestock. And they were going through dramatic mountains, wild animals, beautiful lakes and wide and white rivers as milk that dividing the valley into two. Since that time this place was protected very well and path that left from this migration is now used for our horse riding and trekking itineraries. Of course for our trek we will use very old way of transportation which is packed camels and horses just like how local nomads do!
DAYAN LAKE
The lake borders the north-western side of the Öndör Khairkhan Mountain range. Lakeside small areas of deciduous forest. From the lake originate a tributary of the Khovd River. The lake sits 2,232 meters above sea level, covering an area of 67 km2. Best destination area for fishing.
BAGA OIGOR PETROGLYPHS
The Tsagaan Salaa River flows into the Baga Oigor in the far western region of Bayan Olgiy aimag in the Mongolian Altay Mountains. As the joint Mongolian, American, Russian project "Altay" which began in 1994 determined, along the lower Tsagaan Salaa and upper Baga Oigor, is "one of the largest rock art complexes in North and Central Asia, and the richest in terms of chronological age, quantity, and quality of imagery" There are images of various animal species, hunting scenes, and scenes depicting aspects of human life in the region. We can see humans riding and leading animals, loaded caravans and schematic drawings of what we assume are enclosures. Certain imagery seems clearly to have had some kind of religious/ritual significance (for example, bell-shaped anthropomorphs and birthing scenes, arguably amongst the earliest of the images. A great deal of the imagery may be connected with human and animal reproduction. While precise dating is impossible, there are plausible hypotheses which correlate certain themes with different periods, reflecting changes in climate and the patterns of human activity. Thus, some of the drawings arguably pre-date domestication of animals; the petroglyphs document a shift from dependence on hunting to pastoral nomadism in the period between about 2000 BCE (Bronze Age) and 1000 BCE (early Iron Age). At a certain point, chariots or wagons were being used and their images pecked into the rocks. Scenes with animals being ridden are arguably later.